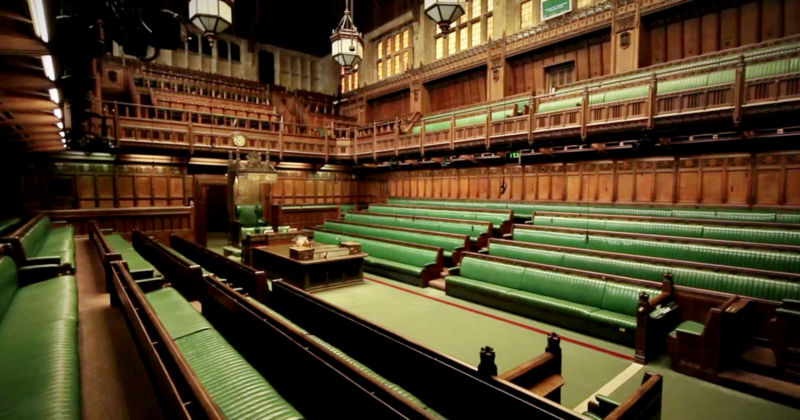 In a political story that's stranger than fiction, the home of a former official photographer for the UK Parliament's House of Commons was raided by the Metropolitan police earlier this week. The cops were reportedly looking for "furniture from the House of Commons and a lamp."
According to
The Guardian
, the raid took place on Wednesday at 8am, when 8 policemen showed up at photographer
Mark Duffy
's London home with a court order to search for "Pugin-designed furniture, candlesticks, ceramics, clocks or lamps."
"They told me they were looking for furniture from the House of Commons and a lamp," Duffy tells
The Guardian
. "I couldn't believe it."
Duffy worked as a Parliament photographer for 5 years, and his images were frequently used on the front pages of major newspapers to illustrate the increasingly frustrating standstill over Brexit. He was also a strong advocate for stills photographer's rights in the House of Commons. Before his dismissal,
The Guardian reports
that he "was having regular arguments over what the photographers could do."
He was fired from the job last September while on leave due to stress-related illness, his dismissal stemming from a controversy over some social media posts that allegedly "paint[ed] parliament in a negative light and breach[ed] impartiality rules," as well as an art exhibition about Brexit.
The raid Wednesday certainly hasn't helped with Duffy's stress levels, especially since it seems to have been an exercise in futility. After two hours, all the Police managed to turn up was a plastic sign that Duffy says he found in the trash, and a piece of fabric with the insignia of Portcullis House on it.
"I like to think of myself as a decent person. That they leapt to the conclusion that I would steal after working in parliament for five years is shocking," said Duffy. "How did they think I got an armchair out of parliament?"
Duffy says he suffered "acute stress and shock" from the raid, and his lawyer Mark Lewis is looking into legal remedies for the "harassment and abuse that has been dished out in a clear misuse of executive powers."
Image credits: Header photo is a screenshot from a video by the UK Parliament, CC-BY-3.0